Student Ministry Chapel Family Children's Ministry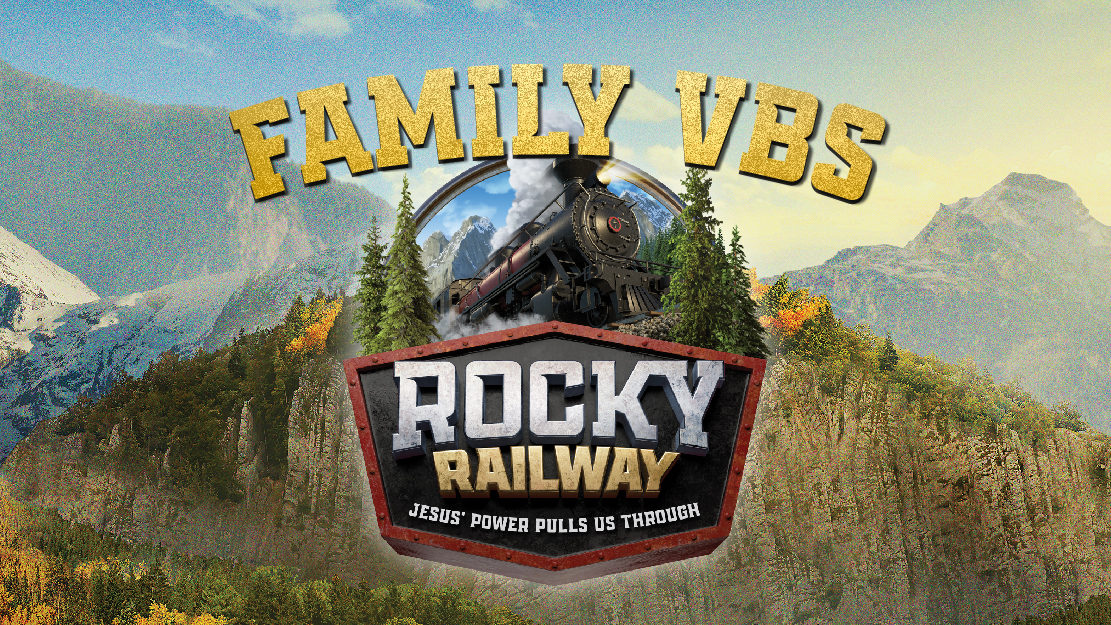 Jesus' Power Pulls Us Through
July 26-30 from 5:30-7:30pm
Outside under the tent, Dinner provided each night
Watch Rich Sylvester below as he shares about this year's Family VBS!

Climb aboard for mountains of fun on the Rocky Railway! On this faith-filled adventure, families will discover together that trusting Jesus pulls them through life's ups and downs.
We are excited to try our first ever FAMILY VBS this year! That's right, the whole family is invited to participate in our evening program held each night the week of July 26-30. Our program will engage all ages — as we play games, complete crafts, sing songs, and learn together that no matter what we are facing, Jesus' power pulls us through! There may also be some grand surprises along the way, so climb aboard the Family VBS train with the whole family. We look forward to seeing you there!
Register by clicking on the button below for the whole week or for whatever nights you will be able to attend so that we can get a count for food and t-shirts for the whole family. As always, this event is free of charge.
Volunteer at Family VBS!
This year at Rocky Railway VBS, we are excited to try out FAMILY VBS for the first time ever! While we still need volunteers, our new format of VBS means families will guide themselves through the different stations together. We are asking that at least one parent or guardian accompany their kids through the night. If you don't have kids to accompany, we would love to have you volunteer for VBS! We are looking for volunteers at these stations:
Food: We need volunteers to help prepare food every night. Volunteers will need to arrive at 4pm to start preparing the food.
Crafts: Volunteers will assist families and children with crafts. Materials will already be prepped beforehand, and you will need to arrive at 5pm.
Activities: Each night, we will have different activities for kids including: an obstacle course, carnival games, and a petting zoo and we will need help running those various stations each night.
If you have a scheduling conflict for any of the nights, please contact Christine Thomas, cthomas@wcchapel.org