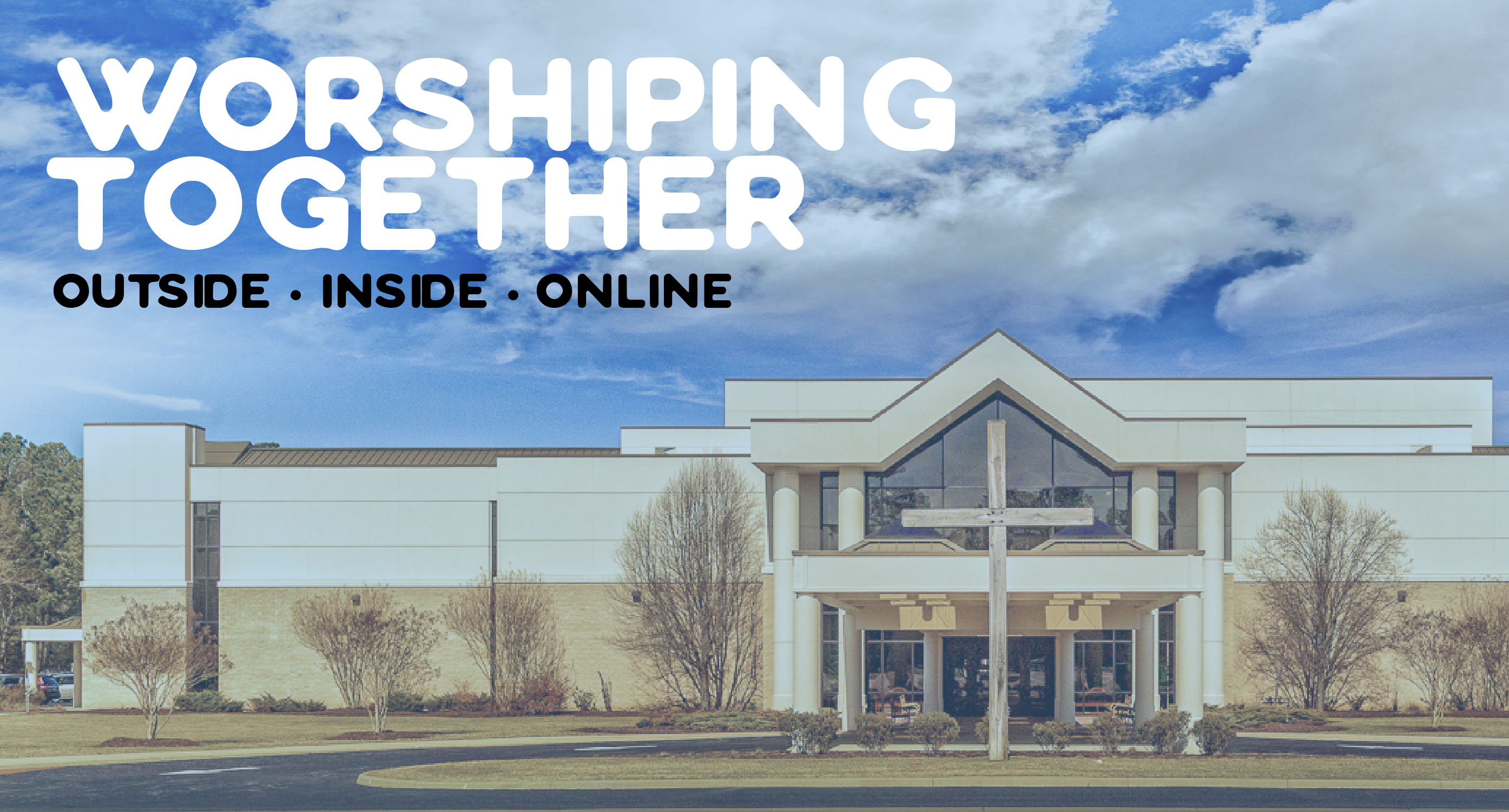 We are excited to continue to meet people wherever they are, both physically and spiritually on their journey, as we worship together.
Worship Services will be on Sunday at
9 am (outside & online) and 11 am (inside & online).
Condensed online service available at 7am
The live feed will begin 10 minutes before the service starts.


Everything we do will be prayerfully considered and within the framework of the following biblical parameters:
"Outdo one another in showing honor" (Romans 12:10b). As we go about this important task of resuming in-person worship services, let us continue to have grace for one another, understanding that there are many different and valuable perspectives to consider.
Observe our government's guidelines (Romans 13:1)
We will continue to monitor the guidance from our Governor as Virginia enters Phase 2 in the Forward Virginia guidelines over the coming weeks.
Care for the vulnerable in our community (Psalm 41:1)
All of the safety precautions we will take are not only about observing our government's guidelines, as commanded in Romans 13:1, but are also "an appeal on the basis of love" (Philemon 9) to limit our freedoms to guard the health of our neighbors. Face masks will be provided for anyone who does not have their own.
Continue to meet people where they are (1 Corinthians 9:22)
Both in-person and online worship opportunities will be available as we seek to worship together regardless of our physical location.
Honor the intergenerational character of our church (Philippians 2:3)
Our services will continue to be shorter as we also maintain our commitment to blended worship. All ages will be welcome in the worship room. We will continue to provide online resources for children and students at wcchapel.org/family-resources.
For those who will be joining us in person for our upcoming events, please see below for some important information and Frequently Asked Questions (FAQs):
What is the church doing to safely care for attendees?
The Chapel staff is working diligently to sanitize all surfaces before and after events, as well as, provide a "touch-less" experience for attendees as much as possible. All doors to the Worship Room and restrooms will be propped open to avoid having to touch them when entering and exiting. We are asking everyone to practice appropriate social distancing (6 feet apart) as well as provide space/empty seats between your family and the next family. Hand sanitizer will be made available at all doors. There will be staff and volunteers on hand to provide guidance.
Do I have to wear a mask?
We are asking people to wear masks for all indoor events. If you do not have a mask, the Chapel will be happy to give you one.
Are we singing?
Yes. We will be singing at both our outdoor as well as our indoor worship services.
Will the offering be collected?
As always, you can give in person, online, or through the mail. During our in-person services, offering boxes will be made available. For more information, please visit wcchapel.org/giving. If you need assistance with online giving, please contact Bert Heath at (757) 920-5027, or .
For the outdoor services, are chairs provided or should I bring my own?
We ask that you bring your own folding chair or blanket for our outdoor worship services. If you do not have your own chair, there will be some available.
Is Children's/Student Ministry available? Childcare?
We encourage all families to worship together when they attend our on-site services. While we are not having CM/SM programming or childcare currently, we invite you to visit wcchapel.org/familyresources for links to videos and learning resources, as well as ways to stay in touch with our CM and SM staff.
Is the Chapel open during the week?
At this time, the Chapel remains closed to most weekly programming but our staff is here so come on by!
Will the Cafeteria be open?
Our Cafeteria is currently closed. Feel free to bring your own coffee or snacks.
Self-Assessing your health before you come to church
If you are experiencing any of the following symptoms/conditions, we encourage you to join the worship service and special events online which will be available via livestream on our website:
Fever of 100 degrees or over
Cough or sore throat
Shortness of breath
Contact within the last two weeks with anyone who has COVID-19